Of every 10 deaths in Hong Kong, 3 people die from cancer and the disease has long been the leading cause of death in Hong Kong. In addition to the number of deaths, cancers generally have a late onset age such as lung and colorectal cancers have recently shifted to the younger age groups.
According to a survey conducted jointly by the Hong Kong Practicing Specialists Association and Cancerinformation.com.hk, only 42% of the interviewed Hong Kong people have prepared for the possible future treatment expenses resulted from cancer. The survey also showed that the vast majority of people would count on their MPF funds, pension, investment reserves or group medical insurance to cover the cancer treatment expenses.
In addition, there were 69% of the interviewees told they would rely on Government hospitals for receiving treatment if they unfortunately suffer from cancers. In fact, quite a large number of targeted therapeutic drugs are not included in the Drug List of Hospital Authority and the patient would need to purchase those expensive drugs at their own expense, even at public hospitals. As the duration for cancer treatment is generally longer, this would definitely further increase the patient's financial burden. All these have shown that a lot of people may have seriously underestimated the cost of cancer treatment and they believe the public medical system can fully cater for their needs.
Taking colorectal cancer as an example, interviewees have estimated the median cost of medication required for treatment at public hospitals to be HK$13,500, while the median cost of drugs for similar treatment at private hospitals was estimated to be HK$100,000. However, actual data shows that the median cost of self-financed drugs that patients have to pay in public hospitals is HK$266,677, and it costs as high as HK$1,293,000 at private hospitals.
Cost of Self-financed Drugs required for Colorectal Cancer Treatment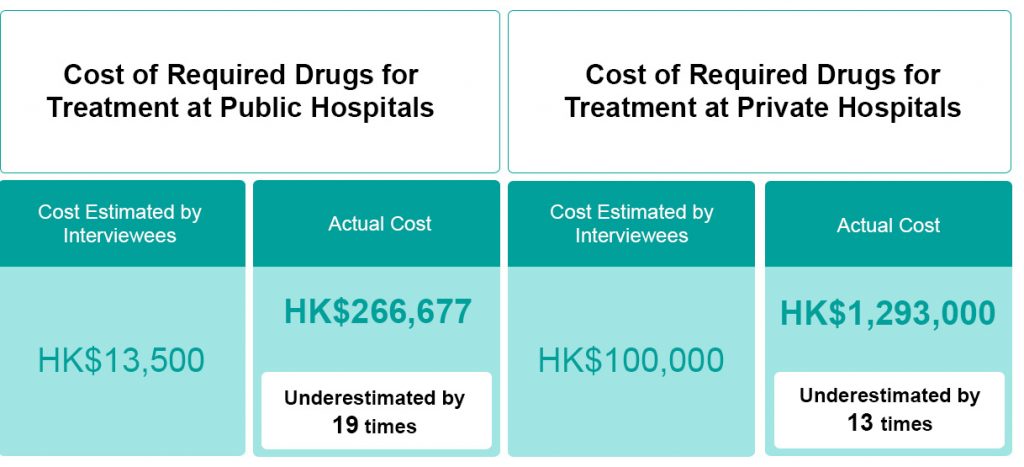 To prepare well for future health needs, it is advisable to plan ahead to cover possible cancer treatment expenses. We should have a correct understanding of the cost of cancer treatment and should not underestimate the required cost. Simply relying on savings such as voluntary health insurance or MPF for future cancer treatment expenses may be insufficient to cover most expenses. In addition, we should also actively prevent cancer risks, develop healthy living habits and receive regular screening tests. If unfortunately diagnosed of cancer, we should seek medical treatment as early as possible and receive appropriate treatment.
Information sources
SCMP (2018),"New cancer cases in Hong Kong projected to rise by up to 40 per cent by 2030"
Retrieved from: https://www.scmp.com/news/hong-kong/health-environment/article/2174199/new-cancer-cases-hong-kong-projected-rise-40-cent
Hong Kong Practicing Specialists Association and Cancerinformation.com.hk (2018), 《Voluntary Health Insurance Scheme are insufficient to cover medical expenses, Government and Individual should plan ahead for future health care needs》 Retrieved from: https://cancerinformation.com.hk/web/2018/07/18/
(This is a translation only. The original article is written in Chinese and you may refer to the original version here for exact meaning).